Quebecois Cinema's Production Spatial Structure 2010
This part of the Cyberatlas project did not lead to an in-depth analysis, but we nonetheless share the data resulting from the research on Quebec cinema's producers. It is a simple list of georeferenced film producers (or potentially interested) in Quebec. Data come from the l'Association des producteurs de films et de télévision du Québec directory.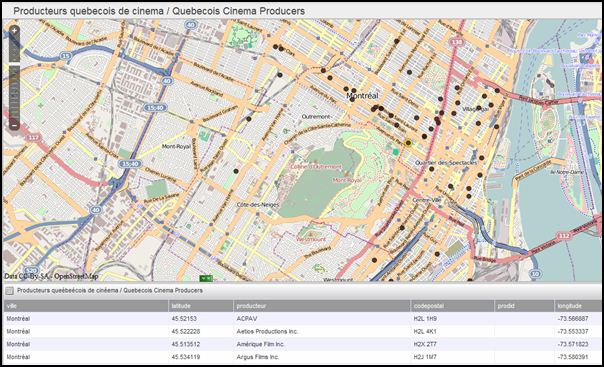 In the spirit of the Creative commons, data collected and created in the context of this project are available to visitors and researchers, provided that three conditions are met:
Attribution: You must attribute the work in the manner specified by the author or licensor (but not in any way that suggests that they endorse you or your use of the work).
Noncommercial : You may not use this work for commercial purposes.
Share Alike: If you alter, transform, or build upon this work, you may distribute the resulting work only under the same or similar license to this one.